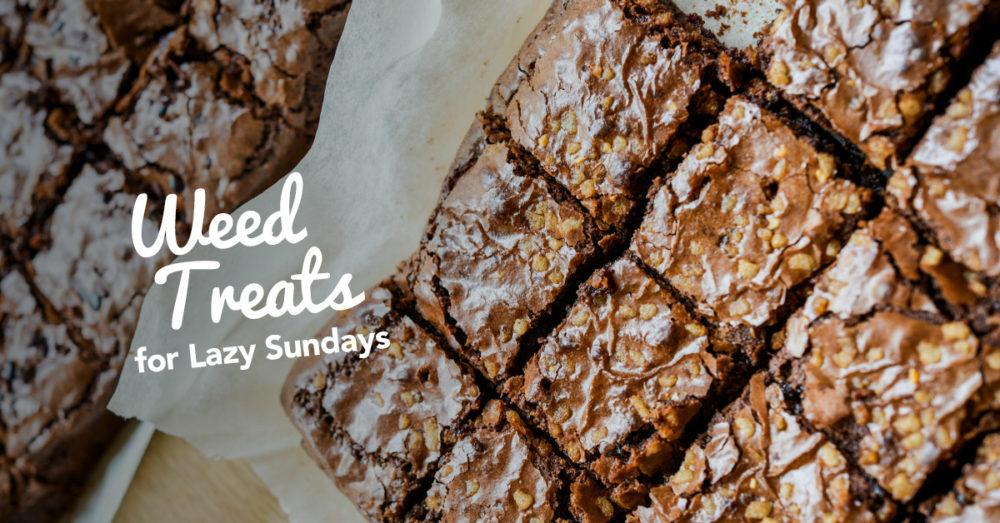 Cannabis Treats to Treat. Yo. Self.
After a long week of work and a couple of wild nights out, you need a day to yourself. A perfect lazy, hazy day to reenergize your spirit and reinvigorate your senses. The perfect day to do it? Sunday! Make Sunday your personal day of rest, to unwind from a long week and to prepare for the busy schedule ahead.
Here's how to achieve the perfect stoner Sunday.
Blackout Brownies
Blackout Brownies are the perfect treat after a particularly rough week. Tastes like a classic fudge brownie, feels like a ganja road trip. It's as delicious as it is effective and delivers relief to achy joints, sore muscles, and bad moods. This heavy-duty treat is ideal for chronic pain sufferers and those with higher tolerances.
Organic Cannabis Pre-Rolls
A lazy Sunday means doing as little work as possible. And when it comes to weed, these Organic Cannabis Pre Rolls are just the ticket. Enjoy a ten-pack of pre-rolled Lowell Smokes. These premium joints include a total of 7 grams of organic flower, testing between 22%-25% THC. It's strong, high quality, and so easy to smoke. Simply pull one out and light it up, that's it!   
Cannabis Chocolate Taffy
Designed for high-tolerance connoisseurs, Cheeba Chews Chocolate Taffy Extra Strength brings a big game. This small-but-mighty treat is highly potent but can easily be broken into smaller sizes for a customized high. This way, all levels of tolerances can enjoy this tasty and effective treat.  
Marijuana Massage Oil
Touch Sensual Massage Oil by Sutra Sensuals is an ultra-soothing, all-natural massage oil. Loaded with antioxidants and essential oils, this decadent product moisturizes and nourishes skin while also bringing you and your partner closer. Now you can spend your entire Sunday in bed!   
Sugar Free, CBD Chocolate Bar
Looking for relief minus the psychedelic feels? Reach for CBD Sugar Free Chocolate Bar. As the name suggests, this chocolate treat is sugar and THC free, meaning you can still experience all the pain-relieving goodness and all the chocolaty-tastiness without the stuff you don't want. Perfect for diabetes sufferers and/or users not looking to get high.
Pina Colada Body Butter
Yummi Karma's High Gorgeous Pina-Co-Canna THC Body Butter instantly transports you to paradise with its tropical scent while the mega-moisturizing, THC-infused body butter brings relief to muscle aches and pains. This product is rich in vitamins A, C, and E, is paraben-free  and vegan. It's a sweet and relaxing product for your exhausted body, mind, and spirit.
CBD Bubble Bath
Let Yummi Karma's High Gorgeous Plain Jane High CBD Bubble Bath take you to relaxation station. Simply draw a warm bath, add a few drops, and soak. The product is unscented, soothes soreness and tension, and provides the perfect, therapeutic experience. This is tranquil way to unwind after a long week.
Cannabis Super Cones
Bud Man Super Cones are the ultimate treat! Pre-rolled with approximately 1.5 grams of top-shelf flower or premium/award-winning strains, these super cones stay lit for a long time. Try sharing with friends or smoking throughout the day. Either way, you're guaranteeing yourself a fun filled day of rest and relaxation.