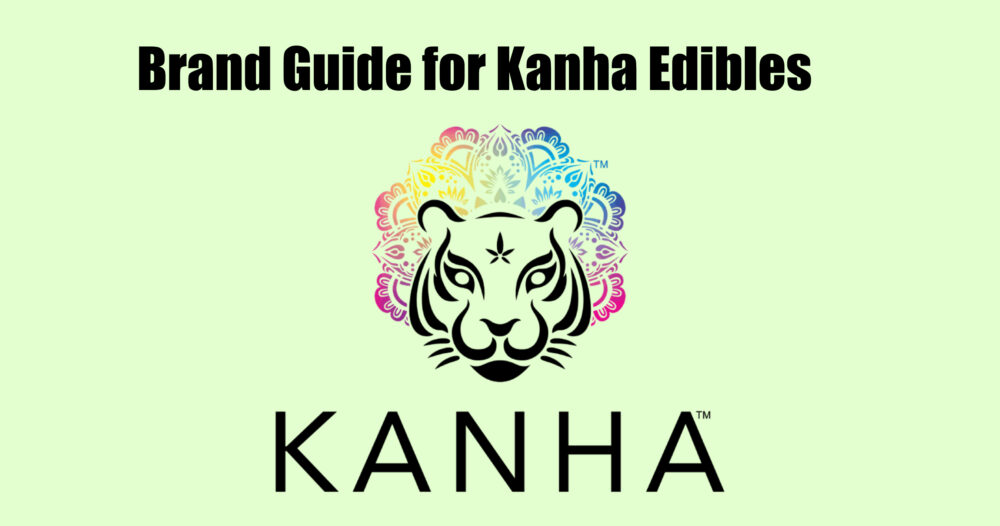 Buyer's Guide: Kanha Cannabis Edibles
Can cannabis enhance spirituality? The founders of Kanha edibles believe it can! Edible marijuana is a reliable and discreet way to elevate your daily experience of life – and the product specialists at Kanha have perfected the art of smoke-free weed enjoyment.
If you're curious about the delicious world of Kanha cannabis treats, we've created a brand guide for their edible gummies. Read on to identify the best Kanha product for you.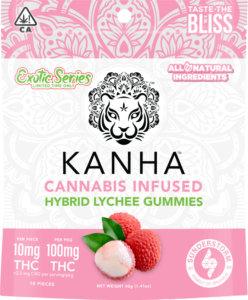 Why Kanha Treats?
During travels in India, the founders of Kanha were inspired by the deity Krishna, the god of protection, compassion, tenderness, and love. One of the god's divine manifestations, Kanha, was chosen as the brand name because the Hindu deity reflects these values and serves as a guide for using cannabis to enhance the experience of life. 
All-natural products, pure cannabis oil, and precise dosing set Kanha apart from other marijuana edible brands. Kanha's commitment to purity and all-natural ingredients also help ensure a consistent and predictable dosage – which is essential for consumers who don't want to experience any unanticipated effects. Kanha also has a social mission: the company supports local nonprofit groups – bringing together premium cannabis products and the local community to support values you can feel good about.
Kanha Edible Gummies
Kanha's cannabis products are all-natural, zero pesticide, zero artificial coloring, and gluten-free. Kanha gummies come in a variety of fruity flavors, including limited edition seasonal editions. Kanha gummies really are different than other brands, which often use discarded byproducts of the marijuana plant as primary ingredients. Kanha brings you the best of pure cannabis oil with no unnecessary additives to interfere with your experience. Kanha is pure premium cannabis delivery in clean gummy form.
But with so many Kanha gummies to choose from, which product is right for you? 
Product: "Kanha Classic Gummies"
Strain: Choice of Sativa, Indica, or Hybrid.
Composition: 10mg THC per piece.
What they're good for: Relaxing (Indica), uplifting (Sativa), and somewhere in between (Hybrid).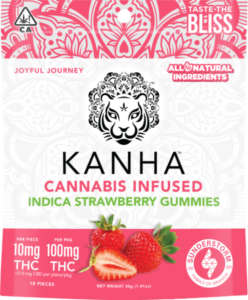 These all-natural classic gummies deliver consistent dosing with no artificial flavors, coloring, or major food allergens. High-quality cannabis oils deliver an effective and predictable psychoactive effect. Classic gummies come in equally classic flavors, including strawberry, pineapple, watermelon, peach, pink lemonade, mango, cherry, ruby grapefruit, and blue raspberry. Each pouch contains 10 gummies, with 10mg of THC per gummy. Choose from sativa, indica, or hybrid strain varieties. 
Limited Edition Gummies
Kanha also offers limited edition flavors for their Classic Gummies. Most recently featured are 10mg Lychee Hybrid and 10mg Spicy Fuego Fruit Cup Indica. 
Product: "Kanha x Buddies™ Liquid Diamonds" Live Resin Gummies
Strain: Hybrid.
Composition: 10mg THC per piece.
What they're good for: Calm, clarity, and focus.
For this special treat, Kanha has paired up with Buddies™ to create a truly unique gummy experience. These balanced Hybrid gummies combine Buddies™ famous live resin "liquid diamonds" with Kanha's all-natural flavors to deliver fast-acting effects for a clear mind and pleasant body buzz.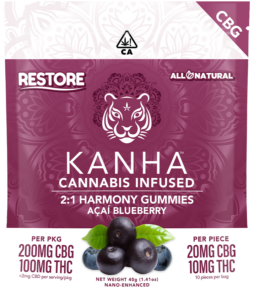 Buddies™ live resin is made from whole flower, fresh-frozen at harvest to preserve terpenes, flavonoids, and cannabinoids in their live state. The resin is then extracted at subzero temperatures for a delivery that is strain-specific and clean. Kanha's fruity flavor profiles of BaNano (blue banana) and Kanha Colada highlight the natural tastes of the live resin for the ultimate gummy experience. Both Kanha and Buddies™ are committed to quality, making the two brands an ideal duo for a live resin gummy creation.  
Product: Kanha CBD, CBG, and CBN Gummies
Kanha offers unique and rare cannabinoid combinations of THC, CBD, CBG, & CBN in gummy form.
Strain: THC paired with CBG, CBD, and/or CBN.
Composition: Unique ratios of THC, CBD, CBG, & CBN.
What they're good for: Body, mind, and mood. 
"2:1 Harmony Gummies"
Kanha's 2:1 Harmony gummies contain 20mg of CBG and 10mg of THC per piece. This ratio delivers a subtle uplifting effect from THC, while CBG helps reduce inflammation, improve gastro comfort, and relieve stress.1 When taken 15-minutes prior, these fast-acting 2:1 Harmony Gummies are perfect preparation for elevating your yoga session, cardio exercise, or creative activity. 
"4:1 CBD Gummies"
Kanha'S 4:1 CBD Gummies contain 2.5mg of THC and 10mg of CBD per piece. Although they contain 2.5mg of THC, the higher milligram of CBD has a counteractive effect, making THC less psychoactive in this gummy's ratio. This peach-flavored cannabinoid combination is great for relieving anxiety, reducing stress, and enhancing relaxation. 
"1:1 CBD Gummies"
Kanha's Pink Lemonade 1:1 CBD Gummies contain 5mg of CBD and 5mg of THC per piece. Each gummy delivers a perfect 1:1 balance, combining the benefits of THC such as stress relief, anti-nausea, and appetite stimulation with CBD's anti-anxiety, anti-inflammatory, and anti-insomnia effects. 
"20:1 CBD Gummies"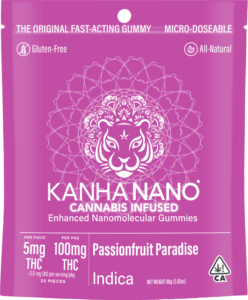 Kanha's 20:1 Watermelon Gummies were created for those who want all of the CBD without the psychoactive effects of THC. Each gummy contains 10mg of CBD and just .5mg of THC – a ratio that delivers CBD-forward benefits of relaxation and pain relief. 
"1:1:1 Tranquility Gummies"
Kanha's Blue Raspberry Tranquility Gummies contain a special combination of 5mg of CBN, 5mg of CBD, and 5mg of THC. This relatively rare ratio provides the perfect recipe for a relaxing, sedative experience that promotes a restful night's sleep. 
Product: Kanha Nano Gummies
Strain: Choice of Sativa, Indica, or Hybrid. 
Composition: 5mg-10mg THC depending on strain selection. 
What it's good for: A potent, fast-acting psychoactive experience.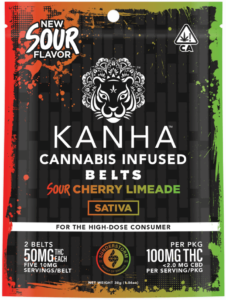 Kanha Nano Gummies use nanomolecular technology to provide some of the fastest-acting gummies on the market with an average 5-15 minute onset. This process of formulation also results in higher absorption of cannabinoids for a full cannabis effect. Nano gummies come in four fruity flavors including passionfruit paradise, cran-pomegranate punch, sublime key lime, and tangerine twist. Each gummy contains 5mg to 10mg of THC depending on your selection of Indica, Sativa, or Hybrid. 
"Kanha Nano Vegan"
For edibles lovers who want a gummy that is free of animal products, Kanha Nano Vegan  gummies delivers 10mg of Indica THC in blood orange bliss flavor. 
Product: Sour Kanha Belts
Strain: Sativa
Composition: 10mg THC per belt segment
What it's good for: A wild ride!
Kanha Cannabis-Infused Belts are a one-of-a-kind candy-inspired Sativa creation containing 100mg of THC per pack, 50mg of THC per belt, and 10mg of THC per belt segment. Low in sugar and high in flavor, you can expect a stimulating and uplifting psychoactive experience in either sour cherry limeade or sour strawberry limeade. 
Kanha's Commitment to Quality
Kanha has created safe, unique, and predictable gummies in a variety of flavors and cannabinoid combinations to suit every occasion. Best of all, they contain the highest quality cannabis oils free of unnatural additives, coloring, or fillers. If you want truly clean cannabis, Kanha products can provide the perfect accompaniment to elevate the experiences you love.
https://budmanoc.com/vendor/kanha/