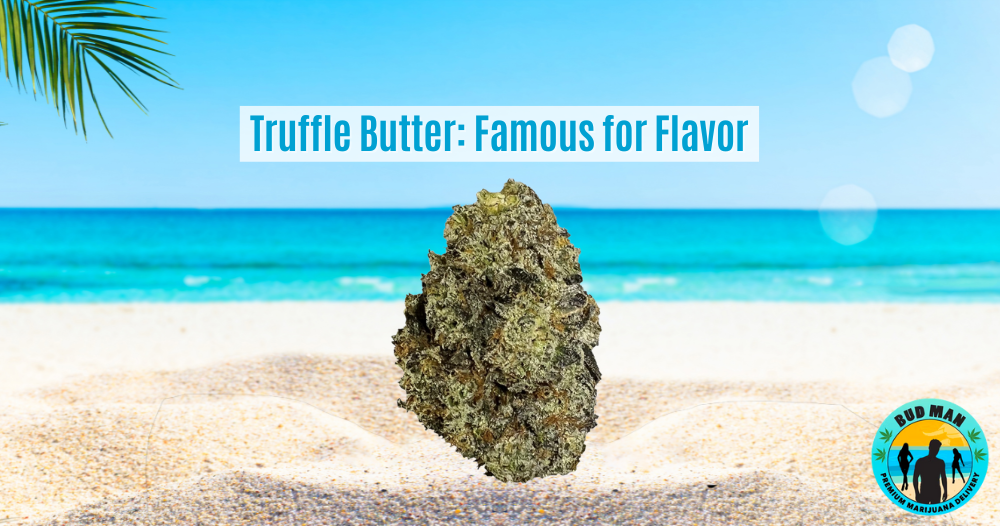 Weed Strain Review: Truffle Butter Is Like No Other
Type: Indica-Dominant Hybrid, 70%
THC: High, 34.1%
Appearance: Shades of lilac, forest green, amber
Aroma: Earthy, caramel
Flavor: Coffee, vanilla
Mouthfeel: Dry and sweet
Head effect: Euphoric, uplifting
Body effect: Sedating, arousing, restful
Summary: The Truffle Butter strain is partially known for its sweet coffee and caramel flavor and aroma. Aside from being a nose and palate pleaser, this strain is also known for promoting a relaxing, euphoric couch-lock and restful sleep. Enjoy at night or whenever you're ready to relax and unwind. 
Behind the Truffle Butter Bud
Unlike regular butter, Truffle Butter won't increase your cholesterol. Also playfully known as "Truffle Budder," this strain comes from a rare indica-dominant strain and was created by crossing Gelato and Chocolate Kush. This particular variety can be difficult to grow for inexperienced growers and is usually at its peak quality when purchased from a respected dispensary. The strain is highly sought after, especially for its sedative effects that can be helpful for sleep and stress. Truffle Butter's THC level sometimes clocks in at about 20%, but when you buy it from Bud Man OC, Truffle Butter becomes Super Truffle Butter with a whopping 34.1% THC.
There's No Better Butter Weed Buddy
The effects of Truffle Butter can be best described as sedating and relaxing. Its euphoric and mood-lifting head effects can be felt right away and may be accompanied by giggling and permagrins. Soon after, you may notice a decrease in head effects and an increase in tranquil, sedative body effects. The feel-good strain has been described as arousing and may lead to hot sex – although you may end up feeling too relaxed to pursue the urge. 
The Better Time for Truffle Butter
On initial toke, sativa comes to the foreground, giving you an instantaneous sense of mental relaxation and euphoria. After the initial effects have had some time to settle in, your body will completely relax as if you're covered in a soft blanket. You may also feel unfocused, groggy, and snacky. Truffle Butter is not a great wake-n-bake strain. Instead, reach for it when you have the desire to wind down: before bedtime or before a cuddle session with your partner or furry friends 
Are You Ready for a Butter Life?
Truffle Butter may be rare, but we've got you covered. Bud Man OC can deliver our 34.1% THC Truffle Butter and a huge selection of other premium strains straight to you, 365 days a year in Orange County, California. 
Truffle Butter (34.1% THC – premium) | Bud Man Orange County Dispensary (budmanoc.com)