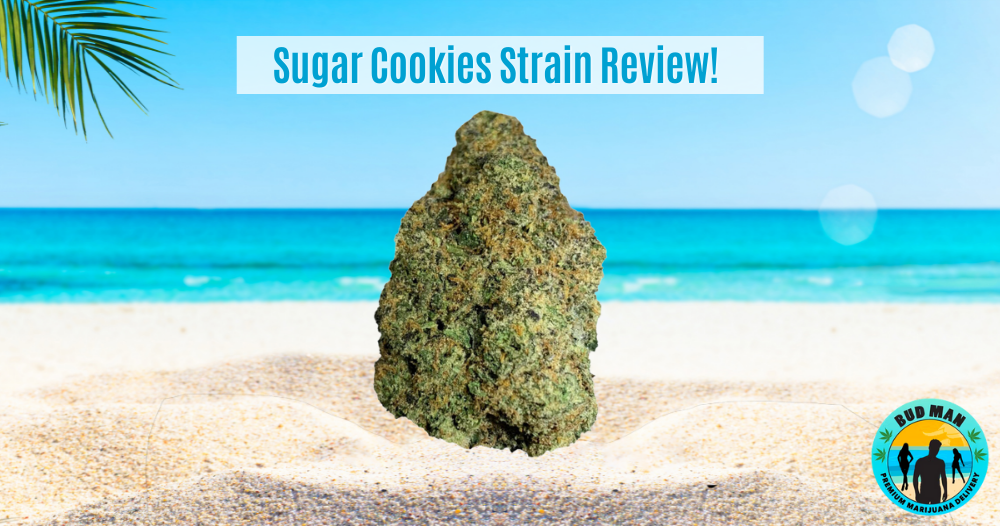 Weed Strain Review: Sugar Cookies
Weed Strain Review: Sugar Cookies are Suh-weet
Flower Strain Profile
Type: 50/50 hybrid
THC: 22%
Appearance: Frosty, bright green with orange-gold pistils
Aroma: Sweet and woody
Flavor: Butter, coffee, vanilla 
Head effect: Uplifting, euphoric
Body effect: Relaxing, sedative
Summary: Sugar Cookies is a unique 50/50 hybrid strain with powerful, fact-acting effects, yet it's balanced enough for everyday enjoyment. The sweet flavor and aroma are pleasantly distinct, and it's a popular go-to strain to relax and unwind. It has also been known to turn frowns into smiles! 
The Sugar Cookies 420 Confection
The Sugar Cookies weed strain is the result of crossing the top-shelf strains Sensi Star, Crystal Gale, and Blue Hawaiian. The strain is named for its sweet fragrance and flavor, but don't let the sugary name fool you: this is no sugar high. Sugar Cookies buds pack a potent puff! The head effect is instantly uplifting without being overly speedy. A relaxing body effect combines with an uplifting head effect culminate in a sense of peace and euphoria.  
Getting Baked on Not-Your-Mom's Sugar Cookies
Sugar Cookies buds are bright green in color, highlighted by wintery crystal frost and bright golden pistils. The  aroma is reminiscent of a dense pine forest, and the flavor tastes sweet with slight undertones of butter, coffee, vanilla, and mom's classic recipe.  
The Sugar Cookies smoking experience elevates your mind and gently embraces your body. Feelings of stress drift away, and tension is relieved, as your body begins to feel tingly and becomes completely relaxed. Sugar Cookies induces creative thoughts and may lend a fresh perspective on life priorities. Head effects are noticeable right away but soon subside, leaving your body ready for a deep and restful sleep. 
Best Time to Smoke the Sugar Cookies Hybrid Strain
The sedative effects of the Sugar Cookies strain are ideal for staying in for a cuddly evening. We don't recommend Sugar Cookies in the morning hours or before an important meeting. The hybrid strain is best indulged a few hours before bedtime, especially if you're feeling salty and need a way to sweeten your mood. 
Want all the flavor and fun of Sugar Cookies without the calories? Bud Man delivers straight to your hotel, home, or office anywhere in Orange County, 365 days a year.