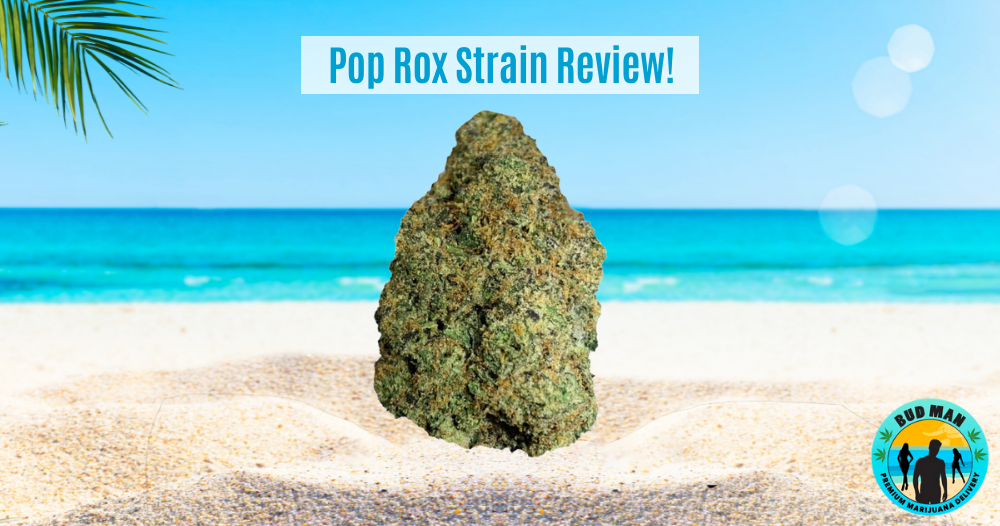 Weed Strain Review: Pop Rox Indica
Pop Rox Strain Profile
Type: 70% Indica-Dominant Hybrid 

THC: Average 15-20%

Appearance: Shades of lilac, forest green

Aroma: Sweet and fruity

Flavor: Candy-sweet with full fruit flavor

Mouthfeel: Floral, dry

Head effect: Euphoric, instantaneous 

Body effect: Relaxed, tingling, restful
Summary: A rare, top-shelf indica-dominant strain that tastes and smells fruity, delivers a tingling sense of euphoria, and sparks creativity. Ideal for weekday use and for enhancing a restful sleep.
The Sweet Story of Pop Rox
The extremely rare Pop Rox cannabis strain gets its name from its fruity, candy-like flavor and aroma. This strain is not necessarily difficult to grow, but the bud yields are relatively small compared to other cannabis varieties – which is why it's rarely seen at weed dispensaries. The euphoric effects of Pop Rox are fast-acting (this is no creeper), while the THC level is comparatively lower than other top-shelf strains, making it a great option for your daily routine. 
The Pop Rox High
The Pop Rox experience is as unique as the strain itself. The delicious flavor and aroma make Pop Rox a perfect strain for anyone who prefers a fruity smoke rather than skunky or earthy strains. After a yummy berry flavor inhale, the effects of Pop Rox are virtually instantaneous, quickly inducing body tingles, feelings of euphoria, and heightened sensations. 
The head effects of Pop Rox are great for getting your creative juices flowing and getting focused for an enlightened sense of clarity. Pop Rox is an ideal weed strain for getting "unstuck" when working on a creative project.
Pop Rox may lead to drowsiness for some, followed by a deep and restful slumber. The indica hybrid strain is also popular for improving mood, reducing stress, enhancing  relaxation, and inducing the giggles! 
When to Puff Pop Rox
The hybrid strain's effect on creativity makes it an excellent choice of toke just before a creative endeavor like an artistic painting project or band practice. Because Pop Rox is known for promoting restful sleep, it's a good fit for regular weekday when unwinding after work. Partoking before sleep can held send you into deep slumberland. 
Just like Pop Rocks candy creates a tingling sensation in your mouth, the Pop Rox marijuana strain often induces a tingling sensation throughout the body. A couple of puffs will sharpen your senses, making Pop Rox a popular strain for enhancing sexy time. 
Ready to Pop Your Rox Off?
Ready to try this rare but popular strain? Bud Man has you covered for weed delivery and in Orange County, California. We delivery stinky buds straight to your home, hotel, or office – 365 days a year. Check out our full menu.