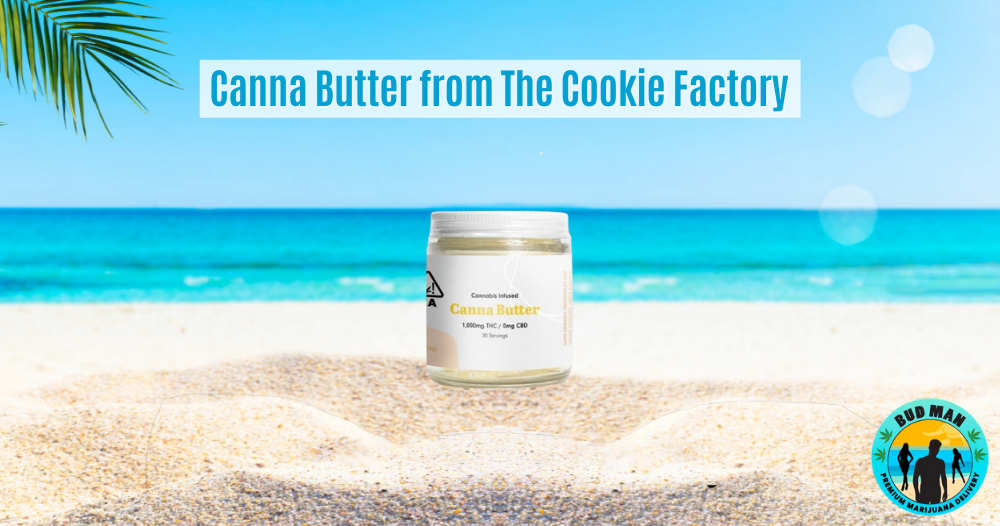 Take Back Your Saturday with Pre-Made Cannabutter
The Cookie Factory's Canna Butter for Perfect Edibles
Edibles are a convenient, smoke-free way to get high, and behind every potent edible is the real star of the show: cannabis-infused butter.
Making weed butter, or "cannabutter," from scratch is a time-consuming and sometimes finicky process. Both the bud and the butter are susceptible to burning, so temperatures need to be precise. By the time you're done whipping up the weed butter and have baked a batch of pot brownies, your entire Saturday could be gone before you've even had a chance to taste your homemade edibles.
Here's the good news: if you want high-quality, perfectly-dosed marijuana butter, you don't have to spend hours slaving away in the kitchen. The Cookie Factory – a cannabis brand that is only available to weed lovers in California – has perfected THC Canna Butter so you can get straight to baking and skip the tricky and time-consuming process of making weed butter.
Why The Cookie Factory's Canna Butter is the Better Butter
Precision dosing.
Making cannabis-infused butter from scratch is often dosing roulette when it comes to consuming your homemade edibles. Will you enjoy a few hours of euphoric relaxation, or will you be spinning on a uneasy carousel for the afternoon?
With Cookie Factory's Canna Butter, you get the same amount of THC every time, making it easier to anticipate just how high one of your cookies, brownies, or other tasty sweet treats will get you. It's also easy to combine with regular butter for even more dosing control.
Sodium free.
The Cookie Factory's Canna Butter is unsalted, which makes it versatile for baking. It's also good for those who prefer a low-sodium diet.
A little goes a long way.
Each Canna Butter jar contains approximately 20 servings – and with a potent 1,000mg of THC, your jar will provide numerous top-shelf trips.
Consistency.
Making weed butter at home yields different results each time due to variations in bud quality, cooking time and temperatures, and technique – not to mention running the risk of burning the beautiful bud you used to infuse your cannabis butter. With Canna Butter, you can expect the same consistent potency and flavor from every jar.
It's all-natural.
The Cookie Factory's Canna Butter is made from real, all-natural butter. No additives, no funny business.
Canna Butter Delivered Straight to Your Door in Orange County
Ready to get baking? Now you can not only skip the process of making weed butter, but you can also save gas on a trip to the bud shop. Bud Man OC deliver Canna Butter straight to your location in Orange County, California: 365 days a year.