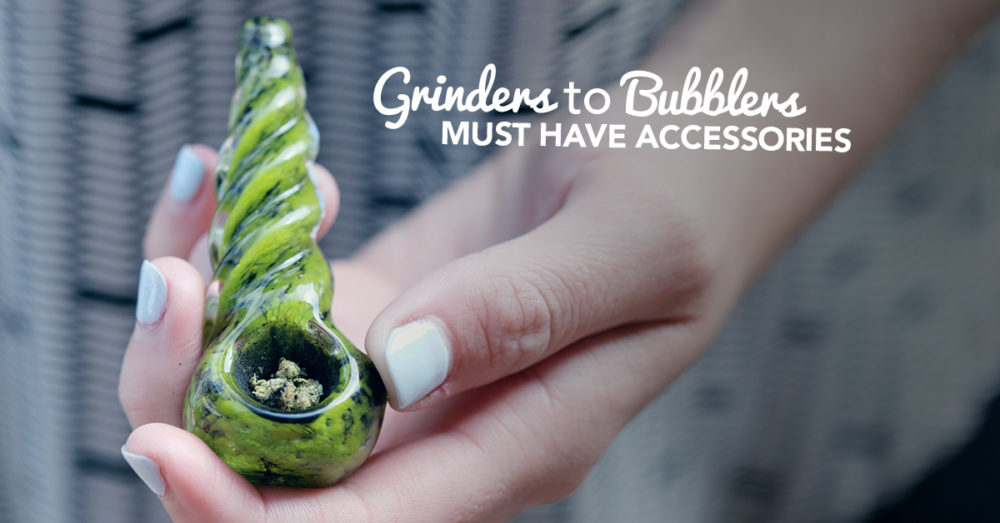 9 Must-Have Accessories for a Better High
Having the right accessories can greatly maximize your smoking experience. Get to know our favorite add-ons below. Discover electric grinders, rolling papers, rescue tonics and more — all here to elevate you to a higher plain.
Grind and Unwind
No need to break a sweat. Get the perfect grind with this automatic weed grinder. The Easy Grinder treats your dry bud to a fine grind with little to no effort, all you have to do is push a button.
Features a generous 2.5g storage chamber which allows you to grind a considerable amount of flower at once. It's a top-of-the-line grinder that resists clogging and includes a cleaning brush and replacement blades.
Get a Smoother High
Footlong Acrylic Water Pipes make a great addition to your collection. Available in a variety of designs and color patterns, these unique pipes are both durable and artistic.
Enjoy a smoother high with this water bong — it's a fun way to liven up a friendly get-together.
Good Times Bubbling Up  
Just looking to get high quick and easy without pulling out the big guns? Try this Candy Cane Bubbler. Made of glass and measures approximately four to five inches in height, it's super convenient for personal use.
Hand-blown glass with unique colors, shapes, and designs, each bubbler has its own personality to match its user.
Rolling With the Homies  
Rolling a good joint is not always easy, especially if you're a noob. But no problem, reach for the Zig Zag Cigarette Roller to easily knock out some killer splifs. They're a great accessory that'll make passing joints around an easy process with beautiful outcomes.
Be a One Hit Wonder
Smoker on the go? Rest easy knowing that wherever you go, you can smoke on the go with this Metal Cigarette Pipe. Measuring only three inches long, colored in white and amber, this metal pipe looks just like a cigarette, making none the wiser.
Pack it with your fave bud before leaving the house and then pack it in your bag. Now you can bring your one hitter on the road.
Follow Your Pipe Screens
Optimize your smoking experience with high-quality Pipe Screens. The screen acts as a filter, keeping all debris and ash at bay, to ensure your smoke is a quality one.
Comes with five screens per pack.
Put It on Paper
Zig-Zag Rolling Papers are popular and iconic. The original, classic white booklet comes with 32 sheets of 70mm wide burning paper. They're the perfect size for rolling joints. Go skinny for a quick hit, or big and bold if sharing with friends.
Remember to Tip
RAW Rolling Paper Tips are high-quality tips made from 100 percent vegan papers. Add these tips to your rolled joints to create better airflow and filtration. Your joints will smoke smoother and cleaner.  
Marijuana Rescue Mission
Got too stoned? Get Mary's Rescue Tonic. This is a clinically formulated product that may help reduce negative effects from overuse of cannabis consumption.
Made with all natural ingredients.