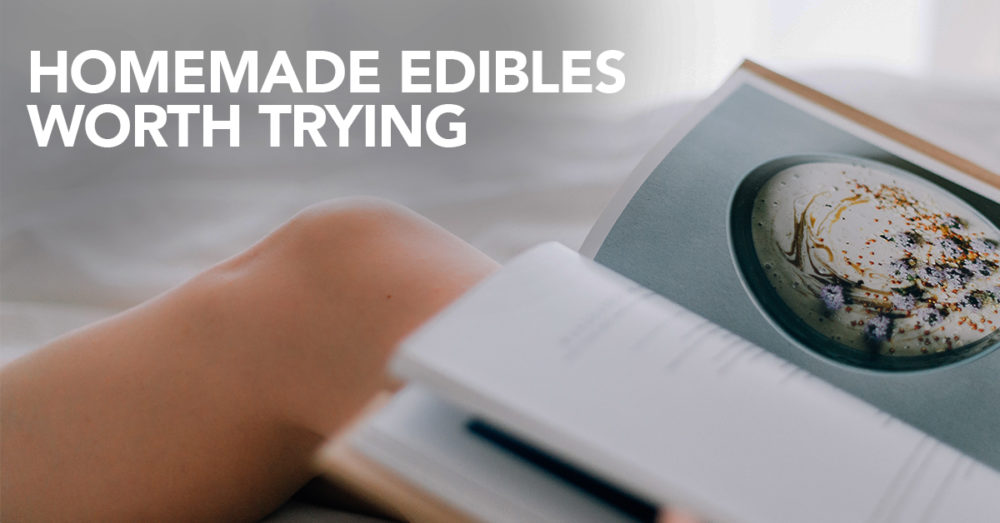 Top 8 Cannabis Recipes for Homemade Edibles
If you're a fan of weed and food, then finding new recipes for marijuana edibles should be right up your alley. While edibles are widely available for purchase at dispensaries, by knowing the basics, you too can create your own tasty inventions that will always hit the spot–no matter the mood, time, or location. Here are some basics to get you rolling.
7-Step Cannabutter
This easy to follow cannabis-infused butter recipe is easy to make and the perfect base for cooking and baking. Create a batch of this stuff and keep in your fridge to use as needed for savory meals and sweet treats.
Cannabis Chocolate
Another easy and must-have cannabis-infused staple is cannabis chocolate. This simple recipe is as easy as melting chocolate (well almost as easy). All you need is chocolate, cannabis, and a little elbow grease to create a sweet chocolate base in no time. Use to dip fruits and cookies or simply harden in a mold and eat as is.
Marijuana Tea
If sipping on something hot and soothing sounds like a delight then indulge in marijuana tea. With this recipe you can drink your way to higher times. It's an easy way feel great while relaxing over a mug of THC goodness.
Cannaoil
Like the cannabutter recipe above, this cannaoil recipe is easy to make and great to use with both savory and sweet dishes. Because it only requires cannabis and oil, it's an excellent option for vegan and vegetarian marijuana users looking to high without the animal byproducts.
Weed Sugar
If you're into science experiments then try your hand at making weed sugar. This 3-ingredient recipe calls for baking, grinding, and evaporating. It's a fun cooking experiment and is perfect for use in sweet treats, gelato, tea, and coffee.
Cannabis Caramel Sauce
This 2-ingredient recipe is super simple and delicious. All you have to do is heat up decarboxylated weed (here's how to decarboxylate your weed) with condensed milk to create this magical caramel drizzle. Add to ice cream, baked goods, or eat on a spoon!
Space Cakes
Maybe it's just us but nothing goes better with marijuana than a sweet and moist piece of cake. That's why this recipe for space cakes is sooooo on-point. It's the perfect recipe for a baking enthusiast looking for creative ways to get high.
Marijuana Lollipops
Try making these marijuana lollipops for your next party or marijuana-themed soiree. They're handheld, bite-sized, and easy to indulge in–even for new marijuana users. Pass them out at your event or keep in the pantry for later-use.   
Be a Cannabis Top Chef
Now you can be a culinary genius when it comes to making edibles. With these easy to follow cannabis recipes, you can master some basic cannabis staples to use in both savory and sweet dishes. Enjoy in pasta dishes, over ice cream, or even alone. There's a recipe here that will surely pass your taste test and high needs.