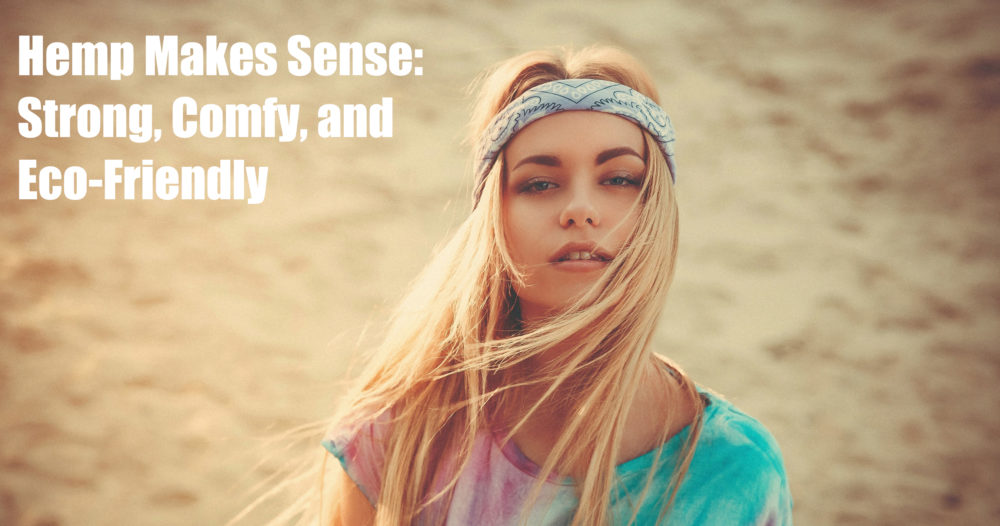 Hemp and Kinda High Fashion
When you think of hemp clothing, you may get an image of rough-hewn fanny packs and baseball caps in neutral colors – but hemp clothing has long since grown beyond its hippie roots and moved into legitimate fashion. Let's look at some of our favorite options for casual hemp wear, but first pose a question: Why do we want to wear hemp clothing in the first place? You can't smoke hemp fabric, so what's the deal?
Hemp is a renewable and recyclable material. It is fully biodegradable – you can toss an old hemp t-shirt into your compost bin instead of sending it to the landfill! Hemp also grows extremely efficiently. The plant is naturally pest-resistant, so there are no nasty chemicals found in the fibers or entering the ecosystem through the air or groundwater. And because of hemp fiber is super strong, it is long-lasting and even improves with age – the definition of great fashion.
Hemp Underwear
Of course you want comfortable and breathable undergarments, so why not procure some panties made from the hemp plant! The Etsy shop ilovebadorganics is a great place to start. They make some pretty sweet boxer briefs for guys too. Pick up some socks while you're at it…oh, and that blanket, and those towels…it's easy to go crazy in this shop. Hemp is so clean.
Summer Hemp Fashion for Guys and Gals
Jungmaven.com sells simple, yet chic designs. It's not haute couture, but it's more fashion-forward than hippie gear. With clean, modern tops that are anything but normy, you can keep a cool look and not destroy the earth at the same time. We love the these styled-out cargos with asymmetrical pockets and a slim leg. Also, these killer sneaks with a retro Chuck Taylor vibe.
Hemp Products for the Home
But wait, what about the stuff in your house? Rugs? Towels? Sheets? Choosing a cool hemp rug isn't easy. They come in all neutrals and don't deviate, except these from Food52. Handwoven of hemp and dyed with bright shots of color, they "keep the dust and dirt out and the good vibes in" as they say. Super absorbant towels can also be found here, in a mix with cotton.
How nice would it be to sleep on material that isn't coated in chemicals? Jungmaven.com answers that call too with affordable sheets sets here.
As summer temps in California start to climb into the 80s, some cool, breathable fashion is so needed. Besides looking and feeling good – by buying hemp fashion, you're also helping the earth not die. Cheers!