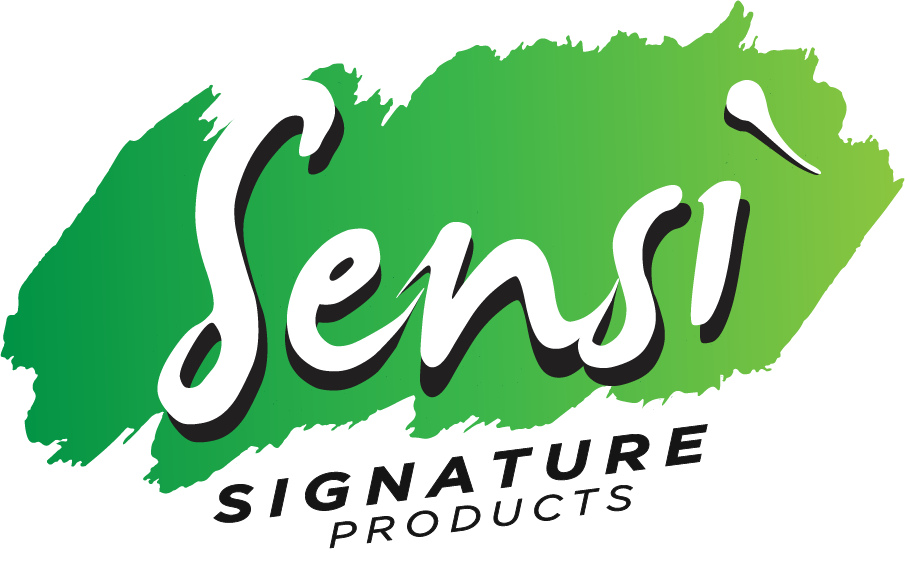 Brand Guide for Sensi Cannabis Products
The Sensi brand offers a wide variety of edible cannabis products. All Sensi products are made with the highest quality, natural ingredients. Read on to learn what makes each Sensi product unique. 
What Makes Sensi cannabis edibles unique?
Sensi stands apart from competitors by using scientific research in its formulations. The result is effective, potent edibles that are natural, discreet, and potent. 
The founders of Sensi believe cannabis should be respected as a traditional remedy. Their mission is to educate the marijuana community through a variety of programs – as well as Collective Wisdom, their podcast about the cannabis revolution. 
Sensi Edible Marijuana Products
Sensi has developed a superior product line of caramels, gummies, and softgels that are consistent, potent, and tasty. Each product delivers a specific effect to improve wellbeing – whether it's reducing stress, increasing libido, or enhancing restful sleep. 
As an all-natural marijuana brand, Sensi designs science-backed cannabis products to achieve ultimate uplifting experiences for your body and mind. Below you'll find a comprehensive list of Sensi cannabis products, when to use them, and what makes each of them unique. 
Sensi Chocolate Caramels
Sensi's Chocolate Caramels are gluten-free with only 10 calories per chew. These delicious edibles are fast-acting, contain only 2g of sugar, and won't melt in the heat. Expect a clean high that lasts 4-8 hours. Results may differ by user. 
Strain: Choice of Sativa, Indica, or Hybrid. 
Composition: THC plus CBD or CBN. Some Sensi caramels also contain natural, science-backed ingredients such as ginseng and glycine. 
Use: Each variety of chocolate caramel chews is formulated to provide the effects you desire, including energy boost, stress reduction, and heightened libido. 
Sensi Chew Energy
Perfect for daytime activities thanks to a quick onset, Sensi Chew Energy is formulated with THC and energy-boosting ginseng. When combined, THC and ginseng can help improve brain functions like memory, stress, and mood along with boosting energy and reducing fatigue. Each potent Sensi Chew Energy packet contains 10 servings with 10mg of THC and 10mg of ginseng per serving. Start with a half dose to determine what dosing amount is right for you. 
Sensi Chew Sativa
Sensi Chew Sativa are a great daytime choice for relief of stress and anxiety. This potent psychoactive formula has a cannabinoid profile containing primarily THC with small amounts of CBD, CBC, CBN, CBG, THCV, and other whole plant cannabinoids and terpenoids. Consumers who are new to cannabis should start with half a dose and wait 90 minutes before consuming more.  
Sensi Chew Indica
Sensi Chew Indica is an ideal choice for fast-acting, full-body relaxation. Sensi Chew Indicas are effective at reducing and stress and enhancing sleep, which makes them ideal for nighttime use. Each chew contains 10mg of THC along with traces of other whole-plant cannabinoids and terpenoids. Much like their Sativa chew counterparts, first-time consumers should proceed with caution and start with small doses. 
Sensi Chew Hybrid
Sensi Chew Hybrids offer the benefits and relaxation power of Indica while providing the uplifting, stimulating mental effects of Sativa – a perfect combination for daytime relaxation. This powerful Sensi Chew Hybrid comes in 10mg of THC per chew. As with all THC-based edibles,, new consumers should proceed cautiously with no more than half a dose. 
Sensi Chew Amoré
Sensi Chew Amoré was created to reduce stress, increase sexual stamina, and spice up your life in the bedroom. Each chew contains 5mg of THC and 20mg of Tongat Ali, a natural aphrodisiac known to enhance sexual desire. Start with one dose approximately 30 minutes prior to sexual activity. 
Sensi Chew CBD Platinum
Sensi Chew CBD Platinum is a non-psychoactive chew that can alleviate stress and anxiety. CBD Platinum contains full-spectrum CBD extract, which allows all cannabinoids to work together for the most impactful experience: the so-called "entourage effect." Designed for anytime use, each dose contains 100mg of fast-acting CBD.
Sensi Chew CBD Gold
Sensi Chew CBD Gold have a 1:1 CBD to THC ratio, ideal for pain relief any time of day. Their 1:1 ratio reduces the psychoactive effects while delivering maximum stress relief and anti-inflammation benefits. Each chew contains 5mg of THC and 5mg of CBD. 
Sensi Chew CBN Sleepytime
For more restful sleep, try Sensi Chew CBN Sleepytime. These chews facilitate deep, restful sleep with a formulation of 10mg of THC and 5mg of CBN, a cannabinoid known to induce drowsiness. For nighttime use only, Sleepytime chews are fast-acting and begin to take effect 10-15 minutes after ingestion. 
Sensi Chew Insomnia
Sensi Chew Insomnia were created to improve sleep quality, inducing longer REM and deep sleep stages throughout the night. Each chew contains 10mg of full-spectrum THC and 2mg of glycine, an amino acid that helps regulate sleeping body temperature. With these nighttime chews, you can look forward to a restful sleep and waking up refreshed.  
Sensi Chew Insomnia Plus
If stress and restlessness are keeping you up at night, Sensi Chew Insomnia Plus may be for you. Unlike other Sensi nighttime chews, Sensi Chew Insomnia Plus are non-psychoactive. Each chew contains 10mg of full-spectrum CBD and 2mg of glycine for promoting restorative, deep sleep while alleviating stress. 
Sensi Gummies
Unlike many other gummy brands, Sensi gummies contain reduced sugar, are 100% vegan, all natural, gluten-free, and kosher. With Sensi gummies, expect a quick onset and effects that last 4-8 hours. 
Strain: Choice of Sativa, Indica, or Hybrid. 
Composition: THC plus Omega-3 and CBD or CBN. 
What they're good for: Anyone seeking 100% vegan, reduced sugar gummies – each flavor has its own unique formula to fit for your goal, whether it's sleep, relaxation, or stress relief. 
Passion Peach 1:1
Sensi's Passion Peach was created to reduce stress so you can enjoy a more active lifestyle. Each gummy contains a 1:1 ratio with 2.5mg of CBD and 2.5mg of THC. As a bonus, Sensi has also formulated their gummies with Omega-3 for extra brain-boosting and absorption benefits. These edibles relax tense muscles, calm the mind, and reduce inflammation. 
Vegan THC Gummies
Sensi's Vegan THC gummies are made with full-spectrum, hybrid THC and are infused with Omega 3 for heightening the effects of THC while adding benefits for the brain, joints, heart, and eyes. Each gummy contains 10mg of THC. Great for anytime of the day, these gummies are best suited for reducing stress, anxiety, and promoting general relaxation. Choose from sublime lime, wild watermelon, very berry, and passion peach flavors. 
Sleepy Sour Cherry CBN 2:1
Sleep Sour Cherry gummies are formulated with 5mg of CBN and 10mg of Indica THC. Created for restful sleep, the combination of CBN, THC and Omega-3 provides enhanced sleep and reduce, anxiety, stress, and inflammation. These potent gummies should be taken 15-20 minutes before bedtime. 
Magical Mango Sativa
Sensi Magical Mango are Sativa gummies offering 10mg of full-spectrum THC per gummy. This edible's uplifting, mood-elevating effects are great for daytime use for relief from anxiety and stress. Like other Sensi gummies, Magical Mango are formulated with Omega-3 for extra potency and faster absorption.
Bedtime Blueberry Indica
Bedtime Blueberry Indica gummies will help you attain restful sleep with a unique formula of THC, Omega-3, and melatonin along with amino acids GABA and L-Theanine for improved sleep quality and quantity. These bedtime edibles induce deep, restorative sleep so you awake feeling rested. Each gummy contains 5mg of THC and 2mg of melatonin. 
Sensi The PUCK Gummies
Strain: Choice of Sativa, Indica, or Hybrid. 
Composition: THC plus Omega-3. 
Use: For consumers with high THC tolerance. 
Sensi's The PUCK (named after the container's resemblance to a hockey puck) contains one sizable gummy per package with a whopping 100mg of THC. Anyone new to THC should proceed with caution. For a reduced dosage, a 10mg cutting guide is also provided. Choose from fresh strawberry sativa, blue raspberry indica, or tropical mango hybrid. 
Sensi Softgels
Composition: CBD and THC. 
Use: Providing alternative relief for stress and insomnia. 
Sensi Caps 25:1 CBD Softgel
Sensi Caps 25:1 softgels contain 25mg of CBD and 1mg of THC, ideal for effective stress relief anytime of day. Each capsule also contains MCT coconut oil for more complete absorption. Taken at a dose of two capsules or fewer, these softgels are non-psychoactive. 
Sensi Caps Sleep
Sensi Caps Sleep brings you the pain relief benefits of CBD with the added sleep-inducing effects of melatonin. With 25mg of CBD and 4mg of melatonin, these capsules are non-psychoactive and best for nighttime use.  
Sensi Has Good 420 Sense
Sensi's founders and their product creations are guided by science, case studies, and consumer feedback to bring you maximum cannabis enjoyment. Best of all, Sensi products are 100% vegan, all-natural, gluten-free – as well as low in sugar and calories so you can get the effects you want without all the stuff you don't.