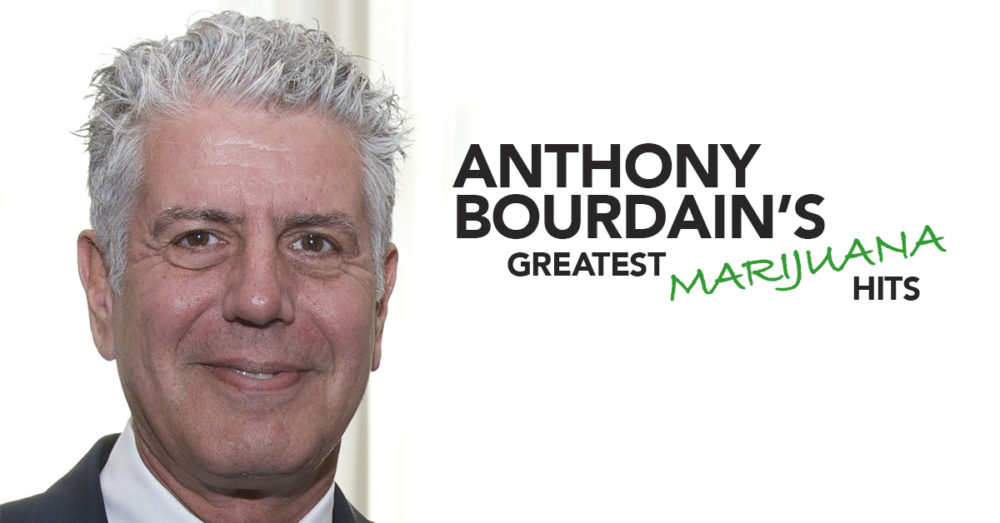 Anthony Bourdain's Greatest Marijuana Hits
Love him or hate him, you probably know of him. Anthony Bourdain was a celebrated chef, tv personality, culture vulture, and cannabis enthusiast. He was always hungry — for food, culture, and a better understanding of the human condition.
Unfortunately, we're using the past-tense to describe Bourdain because he has tragically passed away — death by suicide. On June 8th of 2018, he was found hanged in his French hotel room.
While the collective foodie, gourmand, and travel-enthusiast communities mourn this tragedy, we want to take this opportunity to celebrate the late great. Today we honor his life and commemorate our shared love for weed. Check out our fave Anthony Bourdain marijuana moments. Let's blaze it up together one last time for this dearly-missed icon.
Two Papers are Better Than One
At a 2011 Barnes and Noble Q and A session, Bourdain waxed poetic on the best way to consume cannabis. He's quoted with, "I will tell you – with authority – that the perfect delivery system for marijuana…is a joint. A classic joint. I prefer two papers. Purists will say one paper. [But] two papers burn[s] more evenly."
Munchies in Morocco
During his trip to Morocco for a May 2013 episode of "Parts Unknown," Bourdain visited a marijuana cafe in Tangier. He, along with his guests, romanced on the idea of "old" Morocco and how this cafe represents both old and new — occupied by both locals and visitors alike that pop in causally for a puff of the good stuff. While he gave a half-hearted disclaimer of not imbibing on weed — only being affected by the contact high — his late night munchies might suggest otherwise.
Bourdain Disdains Disclaimers
Another example of classic Bourdain-half-hearted disclaimers can be witnessed during his trip to Amsterdam for a January 2012 filming of "The Layover".
In this episode Bourdain quips: "The use of any controlled substance by me or any member of this crew would be absolutely forbidden according to network standards and all rules of human decency. Remember kids, don't do drugs. We don't." *he says sarcastically as he rolls his eyes and walks away.*  
Stoned in Seattle
But don't feel too bad for our main man just yet. In an episode filmed in Seattle for "Parts Unknown" Bourdain announces, "Washington legalized weed in 2012 and I plan to make the most of it." And make the most he does. He then goes on to sample three different strains, even rolling a joint on camera.
According to CelebStoner, "While Bourdain has traveled to many drug producing countries, he never used any on screen. As he relaxes on a hotel balcony with a joint in hand in Seattle, Bourdain appears to be finally at peace." Yes, we all hope that he is finally at peace.
Rest in Peace
Let Bourdain's greatest hits inspire you to roll one up in his honor. You are greatly missed, friend – and today, we honor your memory.