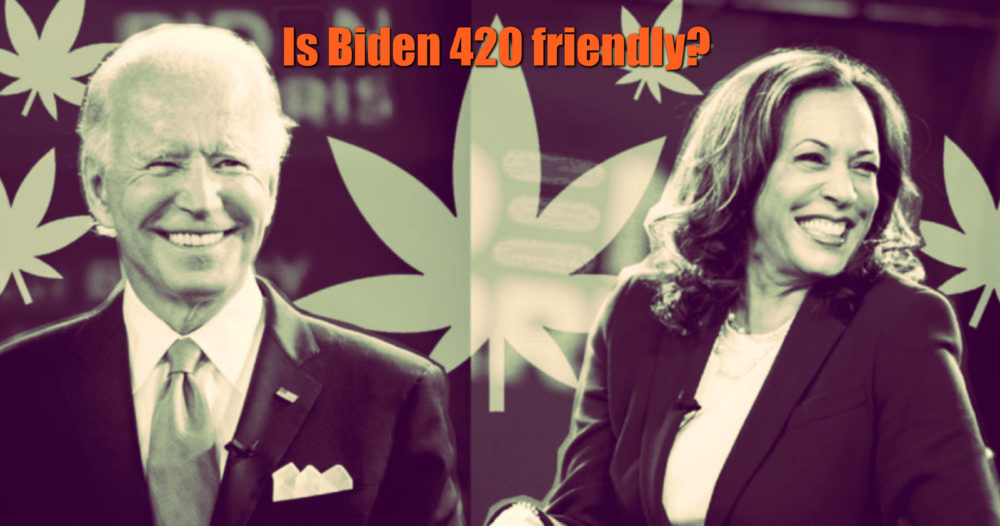 What a President Biden Means for Bud
In November 2020, a state judge in Fresno, California dismissed a lawsuit by 24 counties that was seeking to allow prohibition of cannabis delivery at the county level. Phew, what a relief for weed lovers in Orange County (where brick and mortar dispensaries are banned in most jurisdictions)! 
Now that the 2020 election results have been mostly confirmed, what will this mean for marijuana liberalization at the national, state, and local levels? Does a shift from the red administration (or should we say, orange) mean a shift toward pro-green policies? 
Democrats Joe Biden and Kamala Harris have won the White House. Control of the US Senate will be determined by a double runoff in Georgia, while Democrats have maintained a majority in the House of Representatives. In California, Democrats control the State House 42 to 9. 
In recent history, Democrats and Independents have been generally in favor of legalization and decriminalization of marijuana, while Republicans generally have not supported legalization measures. More recently however, Republicans have embraced neutrality or even approval of cannabis legalization. The popular movement to free the weed continues to march forth across the country. 
So where does Joe Biden stand on marijuana policy? 
Does Biden Support Legalization at the Federal Level?: NO/UNKNOWN
During his time as Senator and Vice President, Biden was opposed to cannabis legalization and has repeatedly pushed for anti-drug legislation. He has even been quoted referring to marijuana as a "gateway drug." Since his most recent campaign for presidency, he has not taken a clear position on the issue of federal legalization. 
Does Biden Support Marijuana Decriminalization at the Federal Level?: YES
Biden has shown some progress in recovering from his anti-pot past. During his latest campaign for the White House, he came out in support of decriminalization and expressed preference for drug treatment programs instead of jail time.  
Does Biden Support Legal Marijuana?: YES
During his campaign, Biden communicated support for marijuana use in addition to decriminalization measures.  
Does Biden Support the SAFE Banking Act (H.R. 1595)?: UNKNOWN
The Safe Banking Act would make it legal for marijuana businesses to use the same banking and loan services as other businesses. When asked about the SAFE banking bill during his campaign, Biden chose not to respond. 
The Next Four Years for Marijuana Policy
While neither Biden nor Harris has a stellar pro-cannabis track record, we believe their support for decriminalization marks real progress when compared with the Trump administration's consistent rejection of any motion to make marijuana more accessible and legal. With all the smoke he blows, you'd think Trump would be an avid 420 supporter. 
All but 15 states have already legalized or decriminalized marijuana to some degree, but the good herb remains illegal under federal law. We don't know what approach a Biden/Harris administration will take on cannabis reform, but we remain hopeful further progress can be achieved – especially permitting access to banking services by weed dispensaries and cannabis producers.
Want pot? Worry not! You live in Orange County, California where marijuana delivery is legal and conveniently available from Bud Man OC (legendary delivery service)! We deliver weed 365 days a year from 10am to 10pm to any residence, hotel, or workplace in the OC. Order now online or by phone, and savor the demise of the Trumpian nightmare with a dank bowl of stinky green goodness.