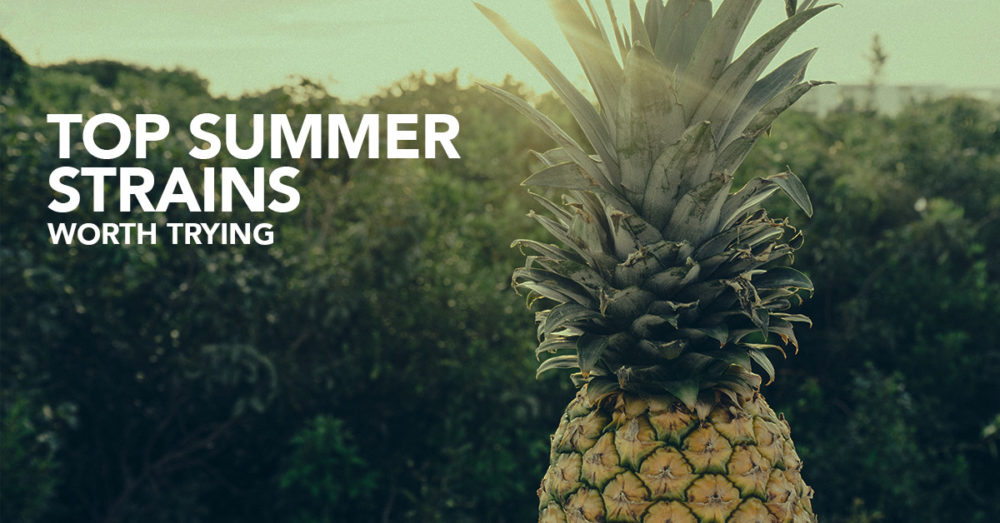 Top 7 Must-Try Summer Strains
We're about a month away from summer and if you're like everyone else, you're probably already daydreaming about beaches, waves, ice cream, and warm nights. But do you know what turns these daydreams into a kick-ass reality? Some summer sticky icky.
That's right, choosing the best strain to pair your perfect summertime activity with is a surefire way to level-up your fun in the sun. Check out our fave picks below to get even more pumped for the upcoming season.
Snuggle Up to Golden Pineapple
This hybrid strain contains notes of papaya, banana, and pineapple — thus the name. Sounds delightful but better yet, Golden Pineapple provides happiness like nothing on Earth. Get ready for total euphoria and try smoking it while snuggled up in your hammock with your honey. You'll both be happy you did.
Hike On with Super Lemon Haze
For active summer events like a day of hiking — be it in the mountains or the city — turn to Super Lemon Haze. This cross strain consists of Lemon Skunk and Super Silver Haze and offers a heady high. In addition to the cerebral high, you can also expect powerful feelings of joy which will make your curious adventuring more colorful and exciting than ever.  
Get Silly with Jilly Bean
Jilly Bean provides a smooth smoke with a sociable effect. While its sativa-dominant side gives you the giggles, the indica finish will put you into a relaxed state of mind (and body, too). This fun ride is the perfect choice for a chill night on the porch with friends. Pass it around, shoot the breeze, and then take it easy for the rest of the night.
Explore with Tangie
Tangie, short for tangerine, has heavy citrus flavors. This sativa strain packs a punch of creative energy making it the perfect choice for a day of busy touristing. If you've got some California summer vacation plans ahead, be sure to get in on some Tangie action and let the energetic, creative juices fly as check out a new city.
Bubba Kush
You've probably already heard of this strain but are you aware of its effects? Bubba Kush is an indica strain that provides a huge body high. So, unlike sativa strains, Bubba Kush is not ideal for active pastimes. Our recommendation? Light this up on a super hot and sweaty night where you're just looking to knock out peacefully.  
Sunset Sherbet
A hybrid strain with flavors of sweet berries in an indica-heavy experience that will have you feeling chill, real quick. Try this out when you're relaxing on the beach with friends during sunset for super-mellow, ultra-chill summer vibes.  
Strawberry Cough
As you can guess, Strawberry Cough gets its name from its sweet, strawberry-flavored smoke. It's a sativa strain known to provide a happy and energetic high — making it a perfect option for social and active adventuring. Try it out while spending a day at the theme park with friends.