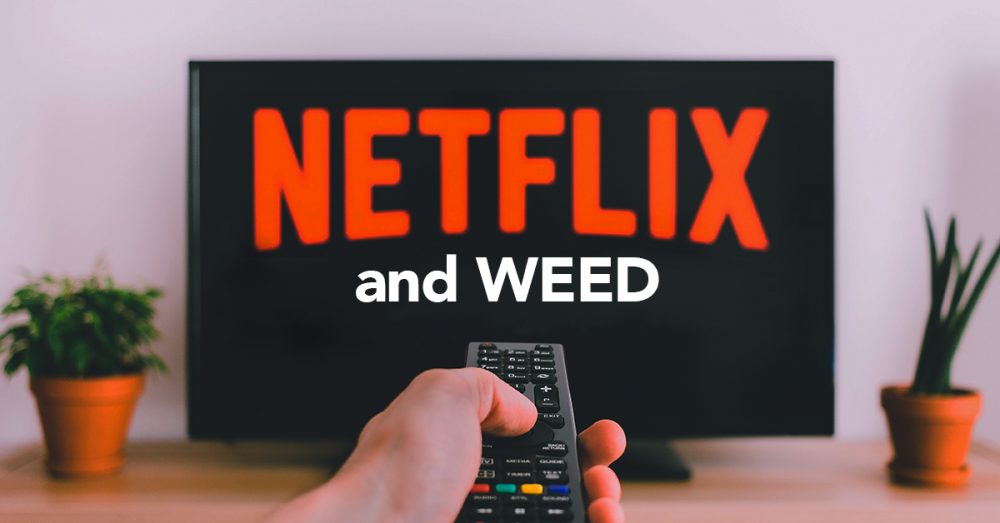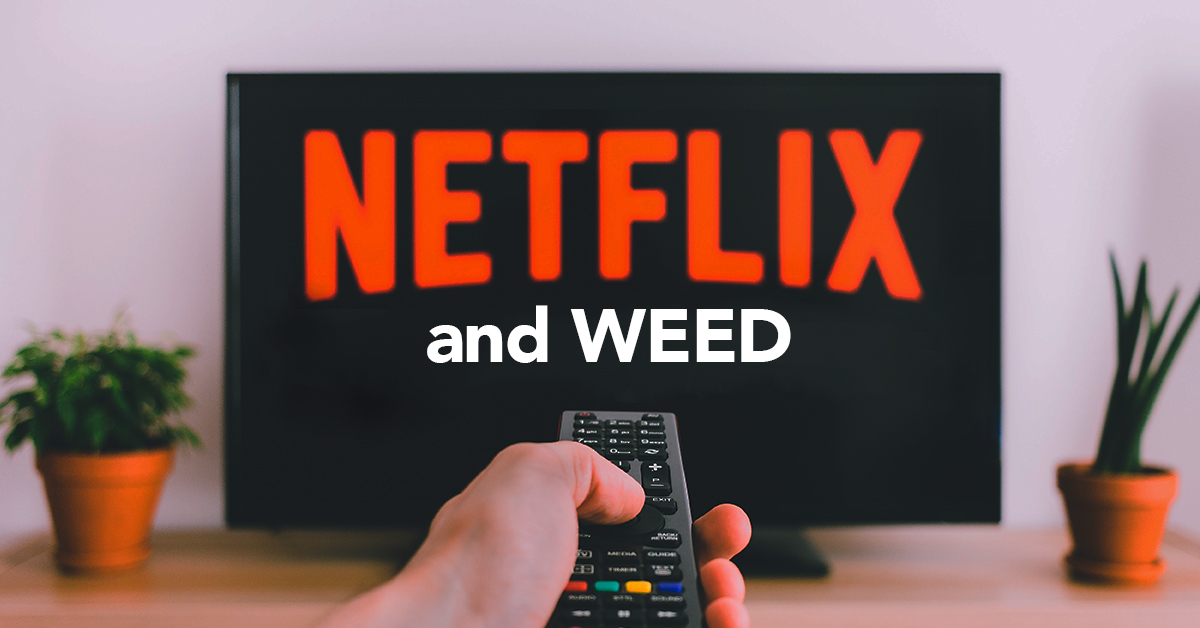 Top 5 Netflix Shows to Binge and Blaze to
From rainy days to lazy Sundays, there's always a good reason to go on a Netflix binge. The only thing that makes pulling an all-night Netflix binge-athon more glorious than ever is bringing weed into the mix. Imagine it now, you on the couch, in your favorite comfy clothes, eating take out, lighting up, and feasting your eyes on any one of these top Netflix shows. Here are our favorite five Netflix picks worth bingeing and blazing up to.
Disjointed

Although cancelled after only one season, this show is still worth a binge sesh due to its weed-centric theme. The show follows Ruth (Kathy Bates), a longtime advocate for the legalization of marijuana, as her dreams finally come true by becoming the owner of a cannabis dispensary in Los Angeles. She is joined by her budtender and security guard – together they are a high-flying team of weed enthusiasts. This cannabis-themed comedy was co-created by Chuck Lorre ("The Big Bang Theory") so you know there's going to be some hilarious high jinks and witty back-and-forth banter.
Stranger Things

Ready for a trip? Then head back to the '80s to a fictional Indiana-based town with a group of best friends as they deal with supernatural events, psychic abilities, and government cover-ups. It's a fiercely talented cast and crew with a storyline that will hook you from minute-one. Watch while high to enjoy moments of nostalgia and adrenaline-inducing excitement.
Black Mirror

Black Mirror is today's modern version of the Twilight Zone. Featuring stand-alone episodes, every story takes you on a deep and thought-provoking adventure of "what if." The episodes are smart, suspenseful, sometimes-scary, and sometimes-happy. The stories are crafted by gifted writers with an obvious dash of paranoia for all things technology. Binge watch and see if you can spot the episodes featuring big name actors like Bryce Dallas Howard ("The Help"), Jerome Flynn ("Game of Thrones"), and John Hamm ("Mad Men"). Enjoy while stoned but try not to let the paranoia get to you, too.
Weeds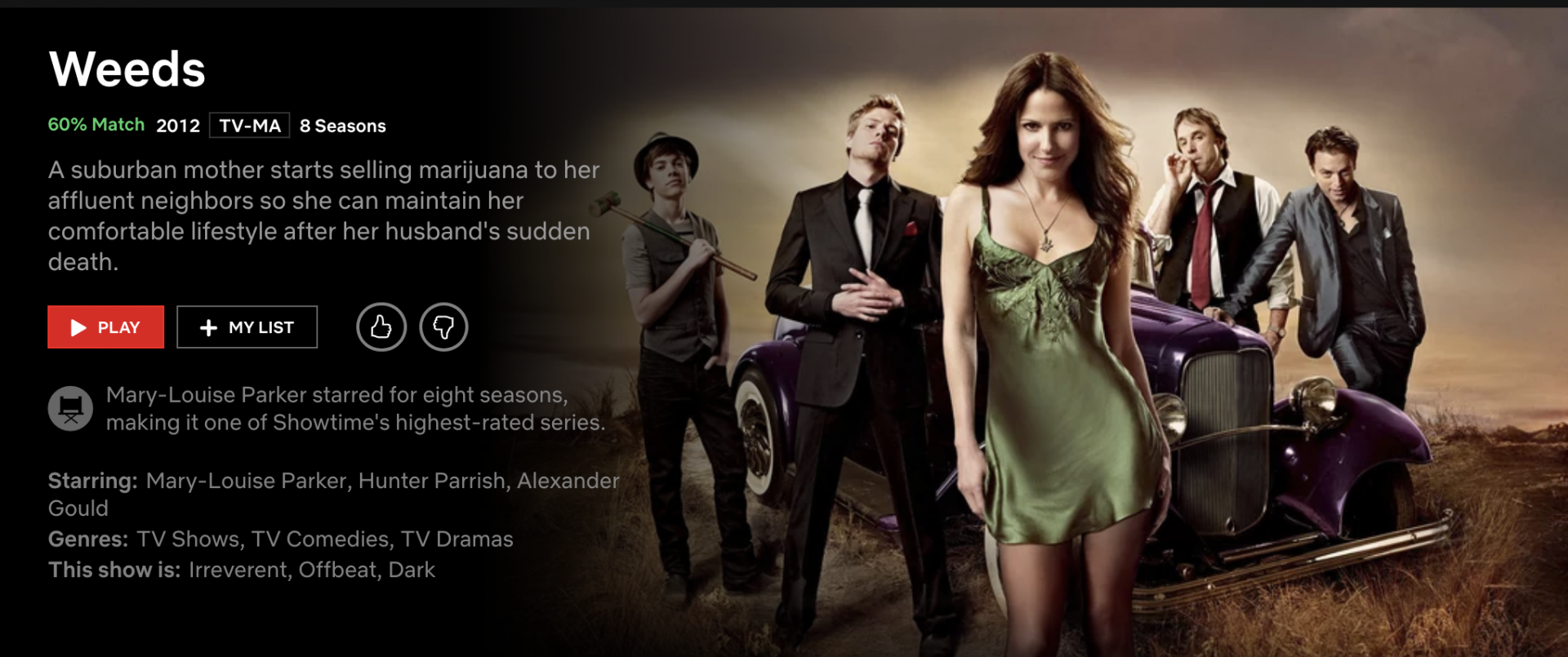 If the one-season-only Disjointed left you feeling… disjointed, then turn your sights to Weeds. This Netflix show centers around widowed suburbanite Nancy Botwin (Mary-Louise Parker) as she gets into the marijuana business — growing and selling weed in an effort to support her family. Weeds is a classic fish-out-of-water story that follows a "normal" PTO-type that loses her husband suddenly, is left in debt, and is fresh out of options. But Nancy is not down and out. She steps up and becomes a big-time bud boss. But as she is still a regular suburban Mom, she's still in the business of trying to keep her business secret from nosy neighbors.
Narcos

If blazing up has got you in the mood for a drug-fueled binge (figuratively, of course) then hit start on Narcos. This gritty Netflix drama chronicles the rise of the cocaine trade in Colombia where real-life exploits of drug kingpins from the late '80s come to life. Expect crime stories from drug lords like Pablo Escobar as well as stories of detailed law enforcement action – both sides are chronicled in this infamous battle in the war on drugs.