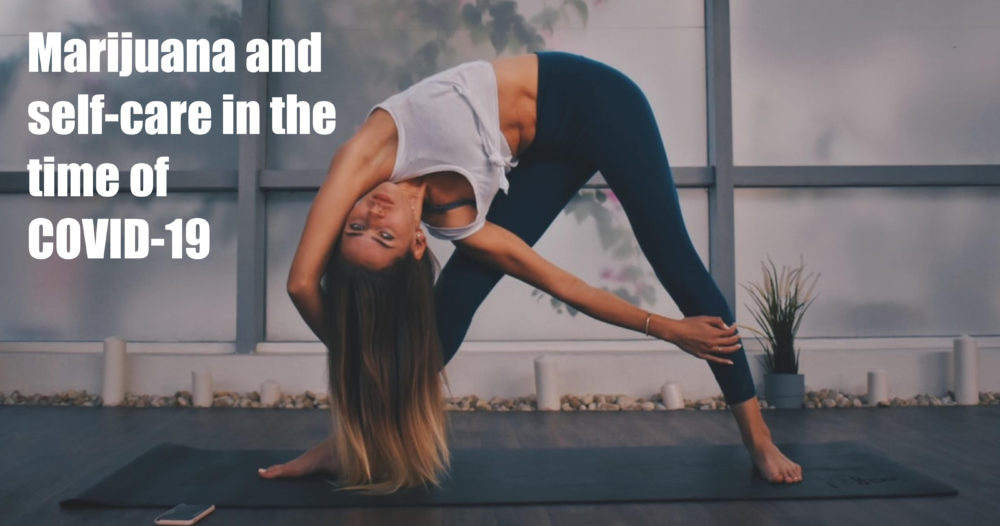 Quarantine Self-Care Tips for Stoners
Extreme weather, hornets with a license to kill, and a pandemic are enough to derail even the most stable stoners. COVID-19 just plain sucks, and some of us are finding we have more free time than we did before the virus interrupted our lives. As we prepare for the worst and hope for the best, be sure to take time to relax, restore, and get high. Here are a few tips to get you through your quarantine scaries – 420 style.
Whether you're working from home or a frontline worker, everyone can benefit from yoga, mindful meditation, and weed. You don't need to be flexible or a Zen Buddhist. It's all a state of mind. Get out your yoga mat, burn some sage, and light up with a bowl of ​She Devil​. This indica strain contains 36.1% THC and is excellent for relaxing the body and mind. Take a hit and begin your peaceful yoga flow. Feel the stress leave your body as you exhale into downward dog. If you're feeling tired or lethargic, relax on the floor and enjoy a restorative shavasana. If you feel the urge to move, slowly position yourself into trikonasana and feel the stretch in your legs.
If you're experiencing stress, depression, or boredom (as many of us are during this time of Coronavirus lockdown), try incorporating the Super Jack​ cannabis strain into your self-care regimen and morning routine. This sativa flower contains 33.9% THC and is ideal for a mind-blowing wake-and-bake session. Pour yourself a cup of coffee, and inhale the earthy aroma of Super Jack as you begin your day. This energetic coffee/weed duo promotes creativity and focus while reducing stress and anxiety.
If hybrid marijuana strains are more your style and you prefer an introspective party for one, ​Apple Fritter​ is an award-winning hybrid containing 32.3% THC potency. Treat yourself to a happy, mellow high, and take a break from the news. Get off the couch, move away from your desk, and take a therapeutic stroll through nature. Bring along doggie if you have one! Retreat to your favorite trail and take in the peaceful scenery as you enjoy the fresh air and mellow high of Apple Fritter hybrid flower.
The current pandemic has turned the weed lover's life upside down. Be thankful you have extra time to enjoy the blissful herb. Remember to relax, wash your hands, and stay safe out there. Irie.