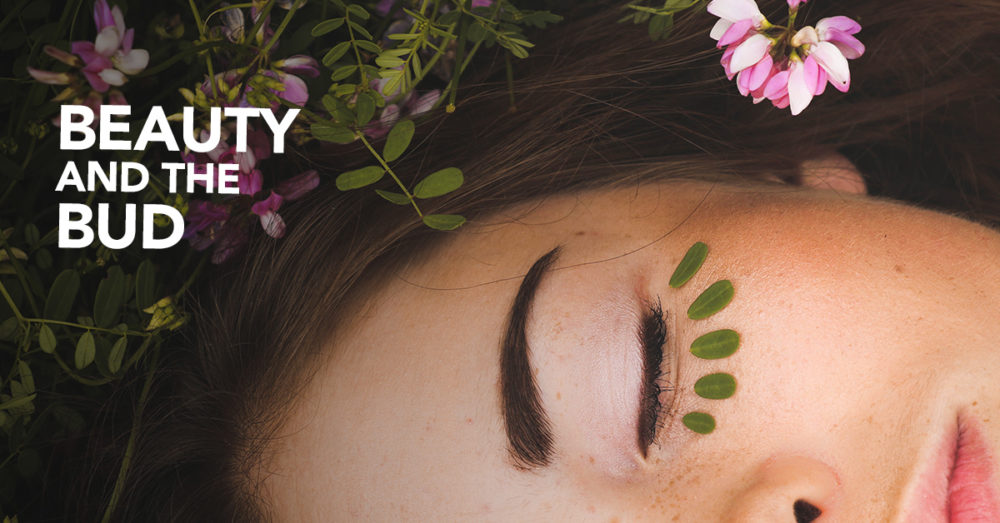 Put Your Best Face Forward With Cannabis
Cannabis is making a big splash in the beauty business. And why not!? Known for its anti-inflammatory properties, cannabis is a great help for not only its health benefits, but for its physically beautifying effects as well. Learn more below!
Clears Up Acne
CBD Infused Aloe & Rose Water Hydration Spray by Jardin Essentials acts as an anti-inflammatory agent to reduce visible inflammation caused by clogged pores. The CBD-infused formula features aloe, rose water, and a plethora of antioxidants to reduce inflammation and help inhibit overactive oil production, both of which is key to controlling and reducing acne.
Combats Wrinkles  
Take the necessary steps in stopping fine lines with Hemp & CBD Anti-Aging Cream with Apple Stem Cells. Created by Crafted Extracts, this anti-aging cream uses stem cells derived from a rare apple tree, shown to have extraordinary longevity & regenerative properties, to assure the longevity of skin cells.
With regular use skin appears younger, tighter, and brighter.  
Reduces Stress
Stress can often show up on our faces. So why not literally wash your worries away with High Gorgeous Cannabis Bubble Bath by Yummi Karma. Catered to a female clientele, Yummi Karma is dedicated to creating cannabis products for professional, pioneering women.
Simply pour two ounces of product under warm, running water for a luxurious, spa-like retreat. Soak for at least ten minutes to sooth sore, achy muscles, and to let go of stress.  
Heals and Hydrates Skin
After a relaxing bubble bath, reach for Sacred Biology's Calming Body Lotion to nourish and refresh skin. Features a light blend of calming essential oils, all-natural botanicals, and hemp CBD, this lotion leaves skin hydrated, soft, and healthy looking. The non-greasy formula is an energizing product to awaken your otherwise dulled-out senses while calming inflamed skin.
Saves Your Neck
The neck and décolleté area are the first parts of our bodies to show signs of aging. Do your best to prevent physical signs of early aging with Hemp & CBD Neck and Decollete Cream. Brought to you by Crafted Extracts, this anti-aging cream was specifically made to help tone, firm, and tighten the neck area by forming a protective barrier on skin while improving skin's overall elasticity and thickness.
By stimulating your natural production of Hyaluronic Acid, skin is left hydrated and healthy looking, with minimized appearance of fine lines and wrinkles. The natural hemp extracts help to repair damage, leaving skin nourished, radiant, and youthful.  
A Surprise for Eyes
Dark circles, puffy eye bags, and eye wrinkles are not a good look. They make you appear tired at best and aged beyond your years at worst. But you don't have to settle for this rude behavior! Apply Hemp & CBD Under Eye Cream by Crafted Cannabis under your eyes, morning and night, to reveal a better surprise for the eyes.
This CBD-infused intensive, anti-aging eye cream will have eyes looking brighter, smoother, and younger.   
Age Gracefully, Beautifully
We're all aging all the time. But with these cannabis-infused products, the process can be a beautiful thing.