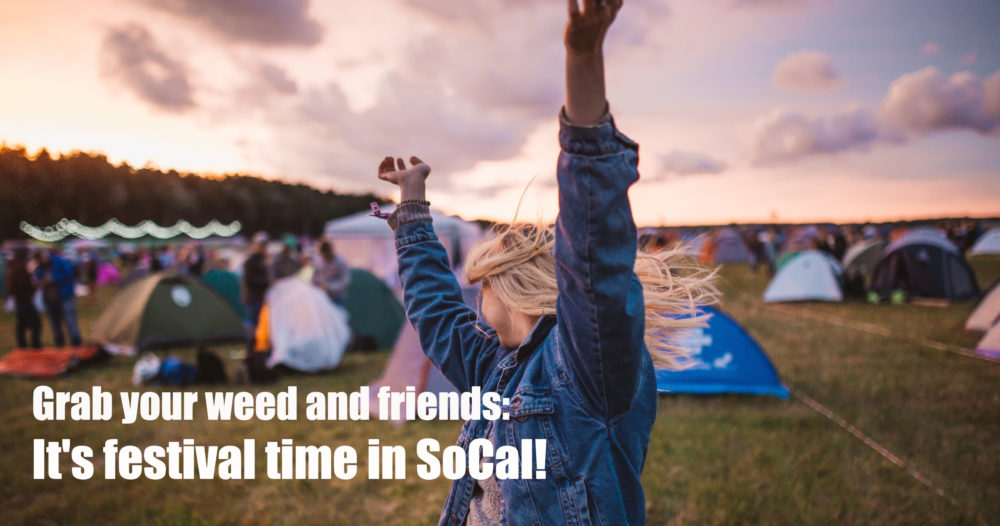 Music, Marijuana, and Summertime in California!
It's time to map out your event plans for early summer. Nothing better than making it about music, and this year's festivals don't disappoint! Music and marijuana enhance each other, and make your high even higher. Lucky you, both are in abundance. For a sticky green taste of the magical musical high times headed your way, check out this list.
May 3-4, 2019 (SOLD OUT!)
It's Just Like Heaven Music Festival
Long Beach, California
Wow. Just Wow. With Phoenix, the Yeah Yeah Yeahs, Beach House, MGMT… you have two things to do: get ready to roll one and get ready to rock. This festival takes place at Queen Mary Park in Long Beach on what promises to be a gorgeous Southern California day. What a lineup! Get thee to this music and get healed from whatever ails you, STAT.
May 11, 2019
Like Totally Music Festival
Huntington State Beach, California
Ahh, fattys + food trucks + music, this is totally it. Dig in to some sweet sounds, whether you were there then or just here now, this festival brings the best of the 1980s back. "Walk Like An Egyptian" with The Bangles. Or "Rise" with Public Image Limited featuring the irrepressible Johnny Lydon! Like Totally also brings you the Romantics, Smithereens, The Tubes, and Animotion (what!!). These are some crazy fun sounds. Load yourself a bowl of legal weed, and head out to the beach!
May 24-27, 2019
OC Music Fest
Oak Canyon Park, Silverado, California
Come to kick out some jams, party with your friends, and support the best of Southern California local jam bands at this epic camping event. With campsites only 200 yards from the two musical stages, it's a comfy event where you're able to rock out – or take a nap if you've eaten too much "chocolate." And hey, if you can get your hands on an RV, there's plenty of room. So do it and make it a luxury musical getaway. OC Music Fest is all the fun without the fiasco of larger camping festivals. This year's lineup includes Cubensis, Brothers Gow, Jerry's Middle Finger, Liquorsmiths, Hempstring Orchestra, and Shred is Dead among many others.
May 25-27, 2019
Fiesta Hermosa
Hermosa Beach, California
Love music? Love food? Love art? Probably, or you wouldn't be here, would you? Feed your tummy and your soul at this beautiful beachside festival. With a mainstage that features rockin' tribute bands performing classics from Santana, The Who, U2, Van Halen and more. Plus 80s dance bands and reggae are showcased in the Charity Beer and Wine Garden. The ever-popular food court serves up everything from roasted corn and tri-tip sandwiches to handmade guacamole, and crepes to Thai and Greek Food. Also shaved ice. Mmm, don't forget that. After you smoke up and eat yourself silly, you can head over to the gallery area where over 300 artists are featured including painters, ceramicists, and jewelers. Sounds like a good chance to get yourself some prezzies. What a sweet way to spend a sunny day in Orange County.