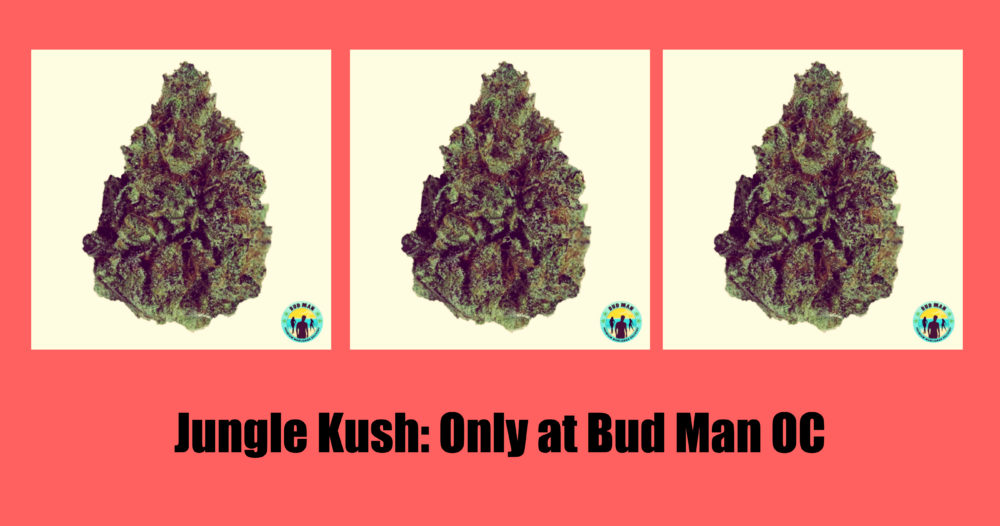 Jungle Kush For the Ultimate Unwind
Now that the election is over, we can all breathe a collective sigh of relief. But we also know now is not the time to get complacent. If you're still feeling a little anxious, we have a Bud Man exclusive indica to recommend that delivers a mighty dose of chill and self-care. 
You may already know, at Bud Man OC we're famous for our elite delivery service and premium flower selection. If you're new to the OC or just need an extra dose of chill during these stressful times, Jungle Kush comes highly recommended. 
This indica-dominant strain is valued for its high potency, weighing in at 34.1% THC. And you can only get the Jungle Kush indica strain from Bud Man OC. That's right; you won't find this high-powered flower anywhere else in Orange County or California for that matter. We're  proud of this fluffy nug and convinced you will love the deep, relaxing body high. 
The Jungle Kush indica strain was born by crossing Bubba Kush SFV OG and Kush X Hawaiian varietals. This powerful combination is perfect for anyone looking to relax after a long day of Zoom meetings. 
All the Feels
Enjoy a slow build to your happy place as negative and racing thoughts melt away and are replaced with the feeling of calmness and sense of well-being. Relax your mind, and the body will follow. 
The Jungle Kush flower produces a sweet and sour woody flavoring with a touch of spicy earth. Savor the organic herbal scent as it morphs into a lovely, toasted char. Jungle Kush boasts a fluffy appearance and is adorned with cinnamon-colored hairs and a layer of rich trichomes. The fall bouquet is perfect for anyone getting into the holiday spirit. 
Recommended Pairings
Pair Jungle Kush with your favorite pizza and a glass of bubbles at the end of a long day. This indica hybrid provides an equally enjoyable high with your quarantine buddy or when you need some time alone. 
Spark a bowl, and cozy up with your favorite hoodie next to an apple-spice scented candle. Your zen time has arrived. 
Jungle Kush Delivered to Your Address in Orange County
You can legally purchase Jungle Kush online, every day of the year. Our famous delivery team brings marijuana to all Orange County cities and neighborhoods every day from 10am to 10pm.