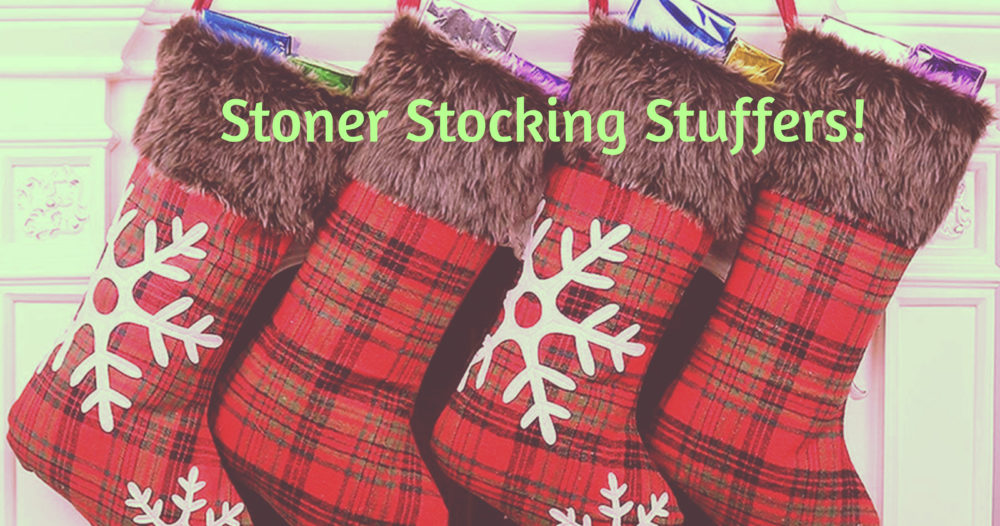 Create the Perfect Holiday Stoner Stocking
If you're wondering what to get your stoner BFF for the holidays, or you'd like to treat yourself (you deserve it!), we've got some great 420 stocking stuffer ideas for you and your choom gang. 
Build-A-Weed-Stocking
Let's start with some CBD products, and we'll build from there. First, grab a medium-sized holiday stocking. You won't need one of those extra-large monstrosities found at Costco, but you do want an adult-sized Christmas stocking large enough to contain all your treats. 
Second, select your cannabis stocking fillers. Fillers are your non-weed essentials. Think tinsel, glitter, cosmetics, mini liquor bottles, or other trinkets that your loved ones will enjoy during this holiday giftgiving season. 
Pro tip: Add heavy items to your stocking's toe, so you don't smoosh your goods. 
This pandemic has been hard on everyone, and we could all use a little self-care this winter. Add a CBD Living Bath Bomb to the stocking first. This bathtime delight contains 100mg of nano-CBD for maximum absorption, and it's the perfect size and weight to anchor your cannabis-themed stocking. Your next item should complement the CBD theme, so we recommend the CBD Living Bath Soap as a second layer for the ultimate spa experience. Next, toss in some tinsel to add a bit of holiday cheer. 
We think it's fair to say that a stocking just isn't jolly without candy and sweets. We may not have the traditional candy canes you're used to, but we've got tons of edibles in stock to satisfy your sweet tooth. Adding a bag of Stack N Trees Ultra Potent Gummies to stocking will make your sesh buddies happy. We recommend positioning the gummies for grownups in the middle layer of the stocking for balance. 
Pro tip: The marijuana edibles bag is lightweight enough not to crush your items below, and the width of the bag will fill out the midsection of the stocking. 
Now that we have packed in a few pieces, it's time for some non-weed goodies. Depending on how much space you have left in your stocking, consider adding a Bud Man t-shirt or hoodie. Roll the t-shirt or hoodie into a spiral and tuck inside the stocking, beside the candy bag. This creates a soft wall that will function as a platform for the next layer. Throw in some more glitter or tinsel for a sparkling effect.
Pro tip: If you have some additional space to fill and are looking for a few handy items to add to the your stoner stocking, toss in a small glass pot pipe, a Bud Man lighter, and some organic rolling papers. 
Now you're ready for the sticky, stinky finale. Add your favorite marijuana buds to the top of your stocking for a dank, crystalline finish. We recommend a mix of indica and sativa flower varieties for any occasion. You can fancy up the green nuggets with transparent holiday wrap for a pop of color. This will make your weed look like an actual Christmas present! Top off the stocking with a few pre-rolled joints, more tinsel, and classic candy canes for a little extra pizzazz – and any munchies that may set in. 
Marijuana Cheers to You
You did it! Congratulations on creating the perfect holiday stocking. It's time to snuggle up with a hot toddy and admire the beautiful DIY magic you just made. 
We hope this little how-to was helpful. If you haven't completed your shopping list, we've got you covered. Visit our online shop for all your last-minute stoner gift ideas. We are every day, including Christmas Eve Christmas Day and deliver to any address in Orange Country, California. 
Happy 420 holidays to all!