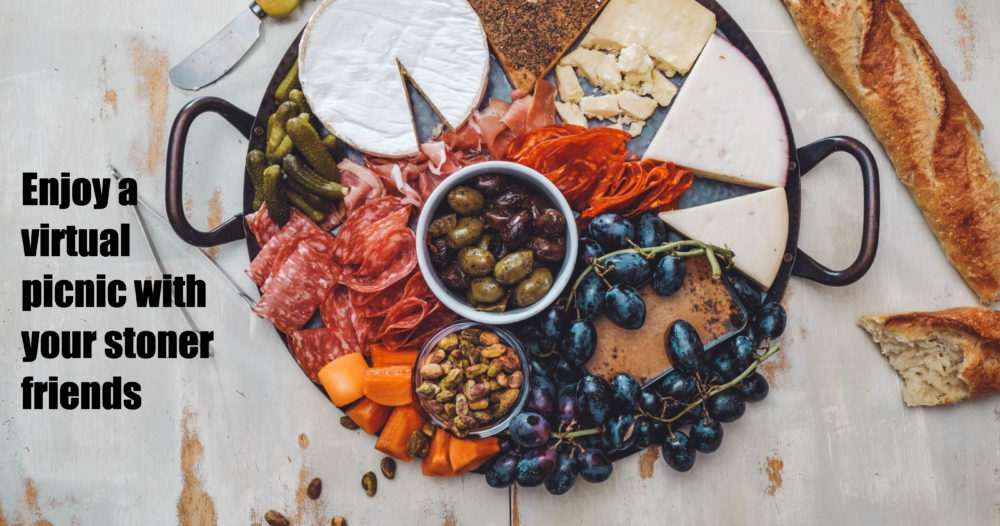 The weather in southern California is gorgeous, and it's picnic season! Don't let social distancing ruin your Sunday Funday. Grab a blanket and pack a bowl of sticky weed goodness. Set up your Zoom camera, and treat yourself to a virtual picnic with friends from your backyard, balcony, or rooftop.  
Everyone loves a good charcuterie board. Say it with me: shahr-koo-tuh-ree. You don't have to wait for the holidays to indulge in this epicurean delight. What you include on your platter is totally up to you. Remember, you want the plate to look full and lush as well as deliver a marijuana kick, so pick your ingredients carefully.
Now the fun part: Start with a few of your favorite deli meats, add a variety of cheeses, and fill out the rest of the board with nuts, jams, fruits, and Cannabis-Infused Goldfish. If you're running low on supplies, you can take up negative space by placing jams, nuts, and 420 edibles inside small decorative containers. 
The key is to have an assortment of colors and textures. When you choose meats, opt for an array of salami, prosciutto, and ham. Try a creamy brie and drizzle CBD infused honey on top. Next, find a hard cheese to add to the mix like Manchego. Lastly, add a semi-soft cheese like gouda to your ensemble. This is shaping up to be a munchies delight! 
Arrange your meats and cheese in two groups at opposite ends of the board. Your focal point need not be in the center. Add a bundle of grapes for a contrast in color. Once you have your items strategically positioned, it's time to finish strong with dessert. Take a CBD Living Chocolate Bar and break it into eights. Fill the empty spaces on your board with cannabidiol chocolates alongside bits of Cannabis Infused Krispies for a rainbow of goodness and highness. You can also add a handful of dried cranberries next to the dessert area, if you're feeling fancy. Finish off your platter with a delicious bong hit of Watermelon or Monster Cookies, two of our favorite indica-dominant hybrids (which are perfect for relaxing and socializing with friends). 
This party platter is going to leave you thirsty. Stay hydrated with CBD Living Water and stock up on your favorite Full Spectrum Coffee to stave off the afternoon sleepies. 
Pick your favorite Zoom background, curate a stoner-friendly brunch playlist, and make your friends jealous with the 420 buffet you've cleverly created. Quarantine isn't so bad after all.